My four kids felt stressed over tests and frenemies, and I wanted to help.  I couldn't take their exams for them, though.  I'm allergic to calculus, physics and Boolean statistics (horror!)
Also I couldn't punch the kid that told my adopted Asian daughter that her eyes looked weird (tempted).  Or find the driver that hit my son's parked car (Park City, Utah) and left a note:  "Ha-ha people think I'm writing down my insurance info."  What to do?
First I made my friend, CJ Johnson's Secret Recipe Chocolate Chip Cookies, because that's how to separate my teens from their smartphones.  Soon my three younger kids (13, 17 and 17) were trapped in the kitchen by their desire for chocolate.  My oldest was at U.C. Berkeley, so he missed out.
 My kids grabbed cookies and tried to run, but I enforced my trade-thoughts-for-cookies policy.  We brainstormed stress solutions, such as talking things out, acceptance, setting up smartphone-free study times, etc.
That worked, but new stressors soon popped up like zits on Junior Prom week.  We couldn't eat cookies daily without looking like Cookie Monster.
Maybe giving my kids something physical to squeeze (or throw) for stress relief might help.  I bought stress balls, but my gremlins threw them once and lost interest (waste of money.) Next, I almost bought a Dammit Doll. 
Whamming the Dammit Doll on a table to vent anger sounded fun maybe, but I soon learned that research has proven "venting anger" through hitting objects, like a doll, a pillow or your wall, increases anger.  Worse, Psychology Today reports this type of venting increases future aggression.
Ummm … no thanks.
Why isn't there a quick, fun stress reducer … something more symnbolic to throw than a stress ball?
Hummm … stressed people throw fits.  I run when my kids throw fits, though.
What about throwing a happy fit?
Could a Happy Fit transform stress and anxiety into positive energy?  Ahhh, I love a challenge, don't you?
Stress, Stress Go Away
How important is stress-relief?  Forbes reported The World Health Organization has called stress "the health epidemic of the 21st century."   Also the Centers for Disease Control reports 110 million people die yearly as a direct result of stress-related diseases.
With a statistic like that, we need every stress-relief tool we can find.  My idea might help, at least a little.  I thought deeply (don't worry, it doesn't happen that often).
A Happy Fit should be fun to throw and soft (avoid shattered windows).  Also I wanted a cuddle-worthy, silly projectile. "A smile is a curve that sets everything straight," said comedienne, Phyllis Diller.
I created a toy with a monstrous smile modeled after my gremlin son, Tom's grin.  Then I designed a removable frown that could be transformed into a smile … a physical metaphor for turning a real frown upside down.
Making Happy Fits would be easy, right?  I'd just whip up four before my kids got home from school.
I drew blood threading the needle.  My kids came home before I finished two of them.
Actually, I didn't finish any.
I ran out of band-aids so I recruited my friend Linda Haessler, who solves my clothing emergencies.  She creates handmade appliqué pillows with hand-dyed fabric because she can't find the right hue … you get the picture.
She designed a pattern, embroidered the happy fit's mouth via sewing machine (who knew that was possible?) and created a cute prototype.  It took Linda 15 minutes (sigh!)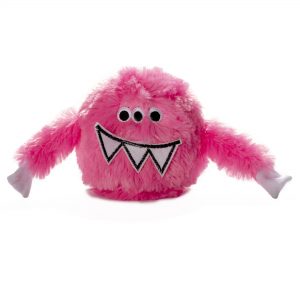 I brought Happy Fits home and handed them to my kids.  My idea was to throw the fit in the air and then catch it to transform negative energy into positive.  But would the toy work as I hoped?
It did!  My kids used Happy Fits to process emotions and release stress.  They felt this worked like taking a deep breath or counting to ten; but was more fun.  Additionally, the toys lightened moods, so my kids could accept their stressor (if they couldn't control it), or choose an action step.
I wondered if college kids might like Happy Fits.  I mailed one to my son. a stressed-out computer science and electrical engineering major.  He loved it, and his friends asked for more.  Newsflash:  Berkeley is stressful.  I also took one to my C.P.A's office.  They have fun throwing it before deadlines.
So I started to think again (yep, that's twice).   What if this stress-relief / anti-anxiety tool could help others?  I wrote a How to Throw a Happy Fit story to go with the toy and hired 14-year-old graphics wiz, Riley Olson (Park City, Utah), to illustrate the book.  Riley amazed me with her talent, just look at this image …

Who hasn't felt not-good-enough when looking in the mirror?  Riley's images swell my heart. I'm excited for her future.
Nobody gets through life without stress.  We need stress relief so we can enjoy life and also live longer.  So let's go hiking, biking, practice yoga or talk with friends (or whatever stress-reliever works for you).
And for a lighthearted option, consider throwing a Happy Fit. You can make your own model.  Or I know where you can find some …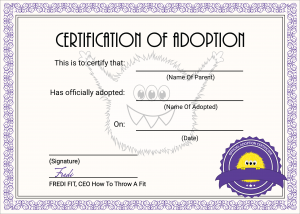 What's your favorite stress-reliever? Please comment, like and share …